The international conference is scheduled for November 27–29, 2023. With the theme "Expanding the Frontiers of Knowledge on Pangasinan," the conference aims to bring multi and interdisciplinary studies on Pangasinan closer not only to the Pangasinan locale but to the global community in general.
The conference is also being held in commemoration of the 110th Birth Anniversary of Carlos Bulosan – a son of Binalonan, Pangasinan. The ICPBS 2023 will provide a venue for the dissemination of knowledge on Bulosan's life and works as a global literary and social movement icon.
OBJECTIVES. The ICBPS aims to:
Cultivate dialogue and linkage in promoting interest and heightened awareness about the province of Pangasinan and its people.
Convene stakeholders, advocates, practitioners, scholars, and researchers engaged in the interdisciplinary study of development, arts and culture, literature and language, history, education, tourism, trade, and business economics of Pangasinan from its past and contemporary perspectives.
Seek and strengthen practitioners, stakeholders, and scholars' collaboration with partner institutions in the region, and enhance academic exchanges with other international academic, development, and non-governmental institutions.
Call for Abstracts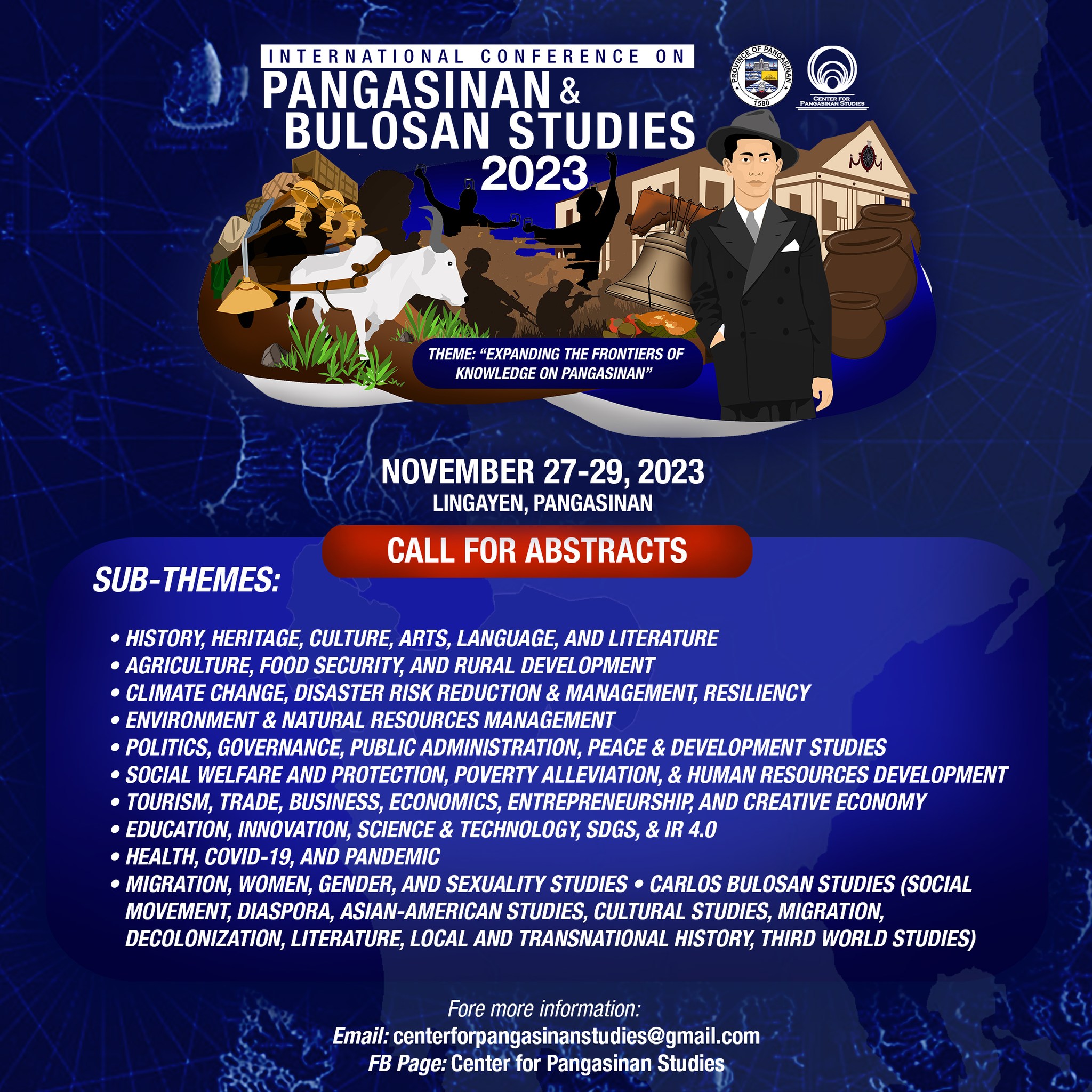 The deadline for submission is extended until July 15, 2023.
𝐒𝐔𝐁𝐌𝐈𝐒𝐒𝐈𝐎𝐍 𝐆𝐔𝐈𝐃𝐄𝐋𝐈𝐍𝐄𝐒
Abstracts should be written in English and should contain no more than 300 words. Filipino and other local languages may be used but must be accompanied by an English translation.
Abstracts should include the principal objectives and scope of the investigation, the methods employed, and the summary of the results/main findings.
No figures and tables included, as well as no references cited or listed.
Uncommon acronyms should be spelled out the first time they are used.
Provide three to five keywords.
Indicate the preferred presentation format (i.e.,Oral or Poster).
Typewritten on A4 size paper with a one-inch margin on all sides.
Font: Times New Roman
Title: Centered and bold at 12-pt font size
Author(s): centered at 11-pt font size; names written as: full First Name, Middle Initial, and full Family Name; use an asterisk to indicate the corresponding author.
Affiliations and addresses: Centered at 10-pt font size and use superscripts to indicate affiliations.
Provide contact details of the corresponding author.
Body: justified at 11-pt font size
Submit the file in Microsoft Word (.doc;.docx) format.
Email to centerforpangasinanstudies@gmail.com on or before JULY 15, 2023.